Meet Madeline Merz
Program and Location:
Fall; Universidad Adolfo Ibañez; Viña Del Mar, Chile
Major/Minor:
Major: Anthropology, Minor: Biological Sciences
Why did you choose to study abroad?
I chose to study abroad because it has always been a dream of mine to travel. I saw it as a once in a lifetime opportunity to be in a different country, not permanently, but for an extended period of time.
What did you learn about yourself?
I learned that I am a talented problem-solver and much more independent than I ever knew I was.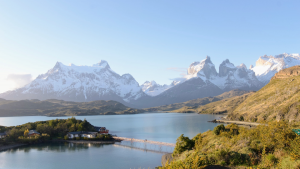 What was one of your favorite parts of your program?
One of my favorite parts of my program was the location. Before going to Chile, I had no idea what all the country has to offer. Once I arrived, I learned about the Atacama desert, Patagonia, Valle del Elqui, Las Lagos Region, and much more. The more research I did, the more overwhelmed I felt by the opportunities I had to travel around the country and experience incredible places. Traveling to these places presented many opportunities for growth in my personal character as well as relationships with newly made friends. Through traveling, I was not only able to better understand myself, I was also able to connect more with the country and those I met while I was there.
What advice do you have to future study abroad students?
My advice to future study abroad students would be to always look at the bigger picture. During your time abroad, you will encounter many different circumstances. These may involve what is occurring around you while you are there or things at home. However, it is important to remember that this is a once in a lifetime experience. You should not let situations in the moment prevent you from taking advantage of amazing opportunities. You may have to go outside of your comfort zone, spend a night in the airport, go on a hike despite being exhausted, or even set out on an adventure after a family tragedy. It is important to experience your adventure to the fullest in whatever sense is most meaningful to you. Do not let temporary situations hold you back and leave you with regrets. Regardless of the challenge or seeming roadblock to my adventures, I persisted in pursing those that I knew would be fulfilling for me, which allowed me to grow and enjoy the trip tremendously.
Were you surprised by anything during your time abroad?
During my time abroad, I was surprised how different the region I visited was from how it is often portrayed. Latin America has suffered from many political and economic challenges, and I was warned about the dangers of visiting a country in a volatile region. Although there was still instances of crimes that are found everywhere around the world, I felt equally as safe and secure in Chile as I do in the US. Many friends have expressed to me a fear of traveling due to the perceptions others may have of people from the US. I never felt fearful in this way or treated in an unsafe manner because of my nationality. The people were extremely welcoming, helpful, and kind towards me.
Would you do it again?
Without a doubt, I will do it again.